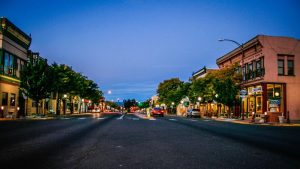 Individuals and families have many choices when deciding where to put their money and many reasons to be careful about who they trust to make investment decisions. A global perspective, experience, integrity and a proven tract record are all important factors to consider. It is also critical that your advisor is always willing and able to provide personal attention and practical solutions to you as you and your family go through life's challenges.
HOW ARE WE DIFFERENT?
Our hands on approach and personal service is different from what many advisors offer. To begin with, we are compensated by clearly disclosing the fees paid by our clients. This allows us to work in our clients' best interests and as a trusted fiduciary. Many advisors receive the majority, if not all, of their compensation from the investment products they recommend. These commissions and compensation fees are not always made transparent to the client. Other advisors work as a fiduciary for their client only part of the time and are commissioned salespeople at other times, depending on which investment or product they are recommending. Calling themselves fee-based, they attempt to confuse the client into thinking they are fee-only. In both of these situations, the advisors in these firms usually have an incentive to recommend high cost products such as variable annuities, whole life and/or universal life insurance, and A, B, & C shares of mutual funds.
Another key difference – We work as a team for our clients, providing personal attention every step of the way. In many firms each advisor has his or her own set of clients so that clients often receive different levels of service as well as quality of advice. At Elderado Financial, all clients receive the same innovative advice and hands-on, courteous service. Each of our advisors specializes in a different area and works on the client's behalf in a coordinated manner ensuring a holistic approach and a continuous high level of service.
Our team approach also benefits our clients in how we work with a client's other advisors including accountants and attorneys to collaborate so that the client's needs are fully addressed. Should a client need an advisor in a particular area that requires expertise that we do not provide, we will recommend a prescreened professional.
Our customized solutions for our clients help grow the assets and save on client costs. One example is when our clients come to us with investments with low cost basis. At many other advisory firms, the asset would simply be sold and reallocated into their investment offering. At Elderado Financial, a comprehensive analysis of all securities as well as their tax ramifications would first take place and a strategy developed and agreed upon by the client.
EXPERIENCE
We have been helping individuals, families, and small businesses plan for their financial needs for over 19 years. Having lived many "financial lives" we know what works and what doesn't. Experience is priceless in a financial arena dominated by investors and advisors who have never seen a recession or a "bear" market.
EXPERTISE
The team at Elderado Financial works together to help their clients reach their financial goals. Jim Elder is the Owner, Founder and President of the firm. Adam Miller is a CERTIFIED FINANCIAL PLANNER™ professional & Chartered Advisor in Philanthropy. The advisors work as a team with an efficient support staff to help ensure our clients can always get the help they need. Our fee-only financial advisors actively manage client's accounts to maximize performance and minimize their risk exposure. With a wealth of combined experience, our staff has the knowledge and experience to manage investments through both bear and bull markets.
INDEPENDENCE
We are not owned by a bank, a brokerage firm, or insurance company but are completely independent. We tap into some of the largest financial services companies in the world to offer our clients a broad base of investments. Unlike many financial advisors, we can utilize both no-load and load-waived investments with our clients, meaning that we can paint from a very broad investment palette to meet our clients needs. We utilize Institutional Class shares which offer extremely low expense ratios for our value conscious clients.
SMALL ENOUGH TO TRULY FOCUS ON OUR CLIENTS
Our mission is to care about our client's goals as if they were our own. We are a small business but yet have the freedom of an independent firm to partner with successful financial services companies. We believe that with us you get the best of both worlds: financial strength and individualized, personal attention. Elderado Financial offers the antithesis of the cold mega-merged financial services companies building long-term relationships with our clients.
WHY ELDERADO FINANCIAL?
Making the financial decisions necessary to achieve your goals takes knowledge and commitment. We offer our expertise, individualized attention, integrity and objectivity. We look at each client as an individual with personal as well as financial goals. Our services are designed to suit each individual, without compromise.
We offer so much more than just advice. We give you a plan and the tools to build your financial success. From investment management to tax, estate, education and retirement planning, we provide expert guidance and up-to-date solutions. The options and the knowledge we provide help you make informed decisions about your future.
Learn more about us and if our services are a match for your needs:
Learn more about us and if our services are a match for your needs.